Univerzitet PIM potpisao sporazum o međunarodnoj saradnji sa Unvierzitetom Metropolitan iz Beograda
7.2.2022.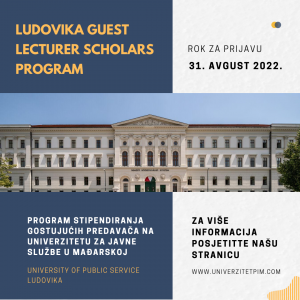 Ludovika Guest Lecturer Scholars Program za stipendiranje gostujućih predavača na Univerzitetu za javne službe u Mađarskoj tokom 2022/23.
31.8.2022.
Konkurs za dodjelu stipendija u okviru programa Fulbright Visiting Scholar za akademsku 2023/2024.
Oktobar 2022. godine.
Poziv za prijavu za obavljanje Erazmus+ studentske prakse u Slovačkoj
31.8.2022.


The aim of the conference is to enable authors from universities, institutes, research centers and businesses to present their works and discuss the latest achievements and/or concepts, opening and developing new directions of research, approaches and innovative practices in a continuously developing world.
Engineering, Technology and Materials,
Computer Science
Energy Efficiency and Green Energy
Economic Sciences andManagement
Law Sciencies
Psychology 
Education and
Medical Sciencies.
The Conference seeks to bring together authors from various scientific fields with the idea of developing and identifying the possibility of forming research teams in order to popularize useful research results within the framework of work on projects and participation in European research programs.
3 Departments
7 Faculties
13 Study programs
Choose your vocation and study at PIM University!